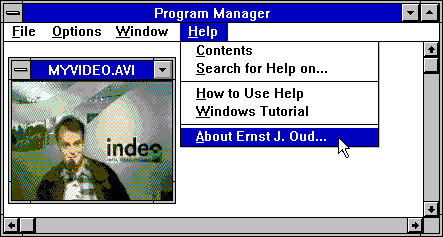 Hi,

My name is Ernst J. Oud (the J. stands for Jan; but I don't like that name). I am currently 45 years old and live in The Netherlands in Voorst, a small village (around 3.000 inhabitants), 10 kilometers east of Apeldoorn. Being born in Amsterdam, living in rural Voorst is a relieve; but if a need urban stress Amsterdam is now about an hour's drive way. I have a wife so I don't have much time to work on these HTML pages (just kidding!). She is an artist that paints, writes poetry, and creates sculptures from material that never was meant to be used for that purpose. If you click here you will be shown a beautiful example of her work - it's 97 Kb. but well worth it. We have three Dachshunds.

I studied Electronics and I therefore can call myself a BScE (gee!) and I earned my title as CISA (Certified Information Systems Auditor) recently. I worked as a team-manager with PHILIPS when they still made computers, and as a product-manager with Toshiba. At CRYPSYS Data Security I sold, supported and consulted computer security products like anti-virus and encryption tools. Then I worked at Getronics Business Continuity B.V. as senior consultant helping companies with Business Continuity planning and IT security. I then worked as IT Security Officer for Urenco Nederland BV.

I currently work as senior manager for Deloitte Enterprise Risk Services.

My hobbies are reading both fiction and non-fiction, computer books and magazines, my little Toshiba (goes by the name of Tosh) and my Powerbook (named Agnes). Also I ride a bike (next time Gerdy asks me to cycle 70 km. I hope I am better prepared!). I recently bought a Speedwing Pro Kite. Great fun! If this all makes me sound a bit like a nerd; I am not. And what's wrong with being a nerd anyway? We all know that the richest man on this planet certainly is one!

I am beta-tester for Executor; the Macintosh emulator for the PC. This is a really cool program that allows PC's, running DOS/Windows or Linux or NextStep workstations, to run a large number of Macintosh programs. The people who made Executor, Ardi have worked on this thing for 9 years! In the autumn of this year, release 2.1 will be on the market. Hopefully it will be a success, so that finally they earn enough money to implement a full System 7.5 emulator. Check it out; it is worth it. If you want a screen dump of Executor running ClarisWorks click here. Although this screen shot is only around 14 Kb., I promiss that I won't be mad if you skip this link.

When I got into touch with Executor via an advertisement in Unix World (of all places), I thought that $99,- was a good way to get to know the Macintosh universe after 15 years of a PC love/hate affair. It certainly was worth it, but I still bought a Powerbook to be able to run those programs that Executor has some problems with for now. If you have never had a portable and if you are considering a new PC, you should really consider such a beast. It really is great to be able to work outside the caravan during your holiday in the middle of Denmark on that speech you should give the day you come back, with your loved-one almost naked next to you enjoying the sun. Oh yes, the speech went great - thank you.



&nbsp&nbspBooks that I recommend to read in the coming holiday season:

Hotel New Hampshire by John Irving
Microserfs by Douglas Coupland
Insanely Great by Steven Levy

The latter is a really good book describing the story of the Macintosh. There now is a paperback version that includes the making of the PowerMac. When you get it, make sure you read the foreword. My name is in there! Yes, I gave some feedback on the hardcover version and Steven Levy is a real nice guy by giving me credit for that. In case you wonder what the name of this book is about; it was phrased by Steve Jobs for "something so incredibly elegant that it is imaginable only to someone possessing the most puissant of hacker natures".

Music styles I enjoy are jazz/fusion and symphonic rock. I recently discovered the wonderful music of ERA.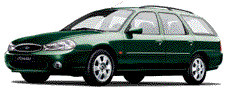 For what it is worth; I now drive a FORD Mondeo Wagon and I love it. To me it falls in the same category as Macintosh computers; it looks good and exudes quality. It has that thing that can't be named but what makes good products good. Every Macintosh owner knows what I mean to say here. It's the stuff that Robert Pirsig wrote about in 'Zen and the Art of Motorcycle Maintenance'.

For people interested (Apple personnel - were you ever listening?); my curriculum vitae is available on this site. If you e-mail me and tell me why you want it, you will receive a message how to get it.

And to finish this off, if you click here, I will show you my favourite Macintosh System 7.x error message. If you know what it means, tell me. No better; tell Apple - so that they can tell their programmers to take a break more often.

P.S. Sorry, for the quality of the picture above. In real life I look a lot better. That is me holding a microphone at the INTEL booth at CeBIT '93 where they introduced Indeo.
---
Back to Ernst J. Oud's homepage